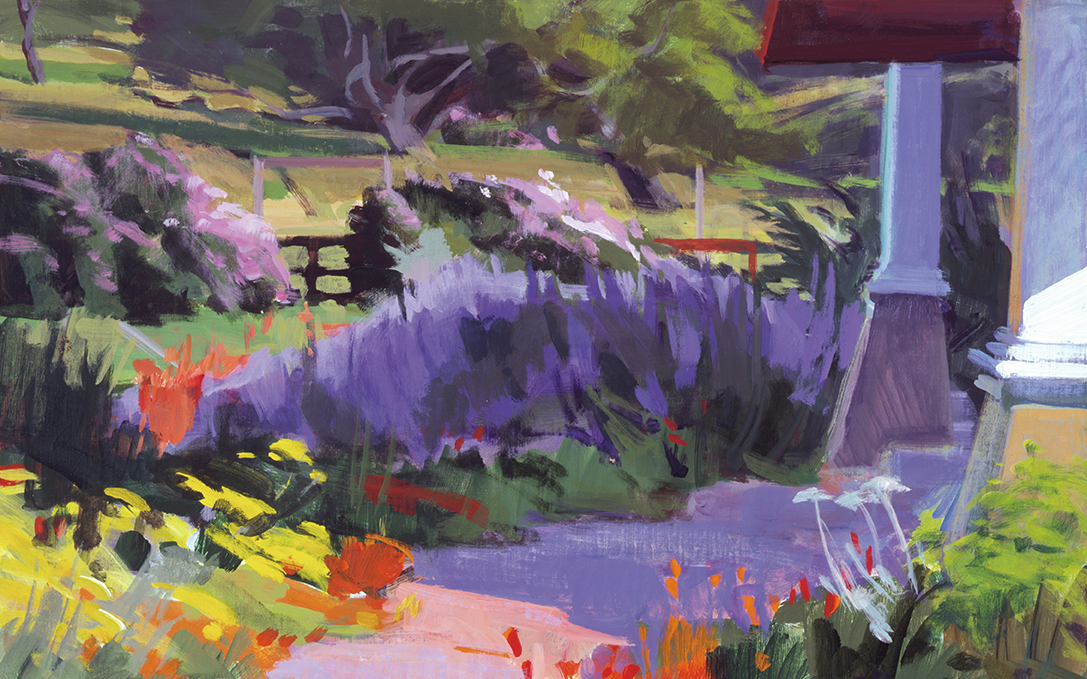 This secluded ranch has a quiet 19th century feel, yet is 20 minutes by car from Highway 101 and the town of Santa Maria, and a half hour's drive to Pacific Coast beaches. Sowle Ranch is situated in a winding valley traversed by a dirt road passing through the creek bed. The Casita is on one end of the central quadrangle, the ranch house is on the second side, a grape arbor with picnic tables on the third, and large straw-bale art studio on the fourth. The studio has a Yamaha Ariel electronic piano, and the walls are nearly completely soundproof.
There are covered porches on both east and west ends of the studio as well as a bank of north-facing windows inside, set up for painting on gloomy days.
Cottonwood and sycamore trees, fresh air, pure and delicious well water, and ready-to-pick flowers and vegetables surround the buildings. A large swimming pool forms the center of the quadrangle, solar heated May through October.
The garden and buildings are surrounded by utter privacy, quiet, twelve hundred acres of cattle rangeland, and hills full of wildlife. In wet years, the running creek is a great painting feature.
Casita amenities
Complete kitchen with breakfast bar

Dining area with table and chairs

Sitting area with convertible queen sofa and comfortable armchairs, wood stove, French doors

Large outdoor covered barbecue-and-sitting area

First floor bedroom with king bed

Loft with beds under the eaves

Bath

Attached laundry

Heated swimming pool in season
The Casita is close to the ranch house but faces away from it. There are two bedrooms -- one with a king bed and French doors opening onto the covered patio, the second a low-ceilinged loft with apex windows overlooking the pool. Bright bathroom, complete kitchen with a glass exterior door; windows and paintings over the cabinets. There is a small refrigerator and large cold room in the Casita. Wine storage too.
The living area, separated from kitchen by a dining bar, has room for sizable table and chairs. The sitting area features a leather sofa with queen sleeper plus comfortable lounge chairs. Great wifi reception. Attached laundry.
In other words, room for three people who want to sleep alone, or three couples or individuals willing to share a bed or bedroom. Maximum six. Those sleeping upstairs must be OK with the steep staircase. There is large covered barbecue-and-sitting area, accessible via French doors from both bedroom and living area, which boasts a private view across fields and low hills to the Los Padres National Forest.
On the ranch and beyond
Birding
Sowle Ranch is a fabulous birding spot.
Carrizo Plain National Monument, the largest protected habitat along the Pacific Flyway, is an hour and a half east.
Take a picnic, your favorite bird guide, and your binoculars as well as your plein air painting equipment for a magnificent day at one of the greatest birding and wildflower sites on the entire Pacific Coast.
https://www.nature.org/en-us/get-involved/how-to-help/places-we-protect/carrizo-plain/
Golfing
There are several golf courses within a 45-minute drive of Sowle Ranch:
Monarch Dunes Golf Club, 4.7 (142) · Golf Course, Nipomo, CA
Blacklake Golf Resort, 4.3 (106) · Golf Course, Nipomo, CA
Cypress Ridge Golf Course, 4.3 (74) · Golf Course, Arroyo Grande, CA
The Coast
Plan your ranch retreat to coincide with high and low tides for great beach and tide-pooling experiences from Pismo Beach, 40 minutes away, north to the cliffs and rocks of Cambria and on to Ragged Point and southern Big Sur.
If you have a yen to paint right on the beach, visit Oceano State Beach where for a modest fee you can drive onto the packed sand, unload your gear, and let the waves come right to your feet as you stand at the easel.
What is provided, what you need to bring
We provide fresh sheets and towels and a completely equipped kitchen. All our vegetables, fruit, and flowers are yours to gather. Bring your own groceries from Trader Joe's in Santa Maria.
Bring your own art supplies or . . .
Acrylic setups provided
For $100 per person I will provide paints, palette, stool, brushes, rags, and easel--everything you'll need for your stay.
Bring your own canvases or panels, order them to be delivered here, or shop locally when you arrive.
I love newtraditionsartpanels, AC14 surface, which is a portrait linen mounted on foamcor offering a fine, almost gritty, surface that can be painted over dozens of times without losing its freshness. The panels are not cheap but you will become a better painter the first time you try one.
Tim at New Traditions will cut any size you like and ship directly to the ranch for you.
Pricing
Casita rental includes studio access, freedom of the garden and ranch grounds, and use of heated swimming pool.
Spring, Summer and Autumn at the ranch
Arrive March 2 through December 13, 2019
Four-day weekend
Arrive Friday, depart any time Monday
Other arrival times by special arrangement
First two guests, $800 per long weekend
Three or four guests, $1100 per long weekend
Five or six guests, $1300 per long weekend (maximum six)
By the week
Arrive Friday, leave any time Thursday
Other arrival times by special arrangement
First two guests, $1200 per week
Three or four guests, $1700 per week
Five or six guests, $2,000 per week (maximum six)
$150 cleaning fee
Rent and cleaning fee due at time of booking
Cleaning fee will be refunded 100% if booking is cancelled.
For 100% refund of rental fee, cancellation must be made 30 full days prior to arrival date.
For 50% refund, cancellation must be made 7 to 29 days before arrival date.
Cancellation less than 7 days in advance, no refund can be given.
How to get here
Sowle Ranch is a 45-minute drive from San Luis Obispo or 90 minutes from Santa Barbara Amtrak train station. It takes 45 minutes by car from SBP San Luis Obispo Regional airport, and 90 minutes from SBA Santa Barbara airport in Goleta.
Both airports have rental cars available.
This historic ranch was originally over 4,000 acres. It was divided into three parts in the 1930s. Sowle Ranch retained the corrals, hay barn, and ranch bungalow built in 1914 from redwood that floated ashore after a shipwreck off Pt. Conception. A tiny 1880s stone schoolhouse, which once served this rural canyon, stands next to the cowboy house a hundred yards behind the ranch house compound.